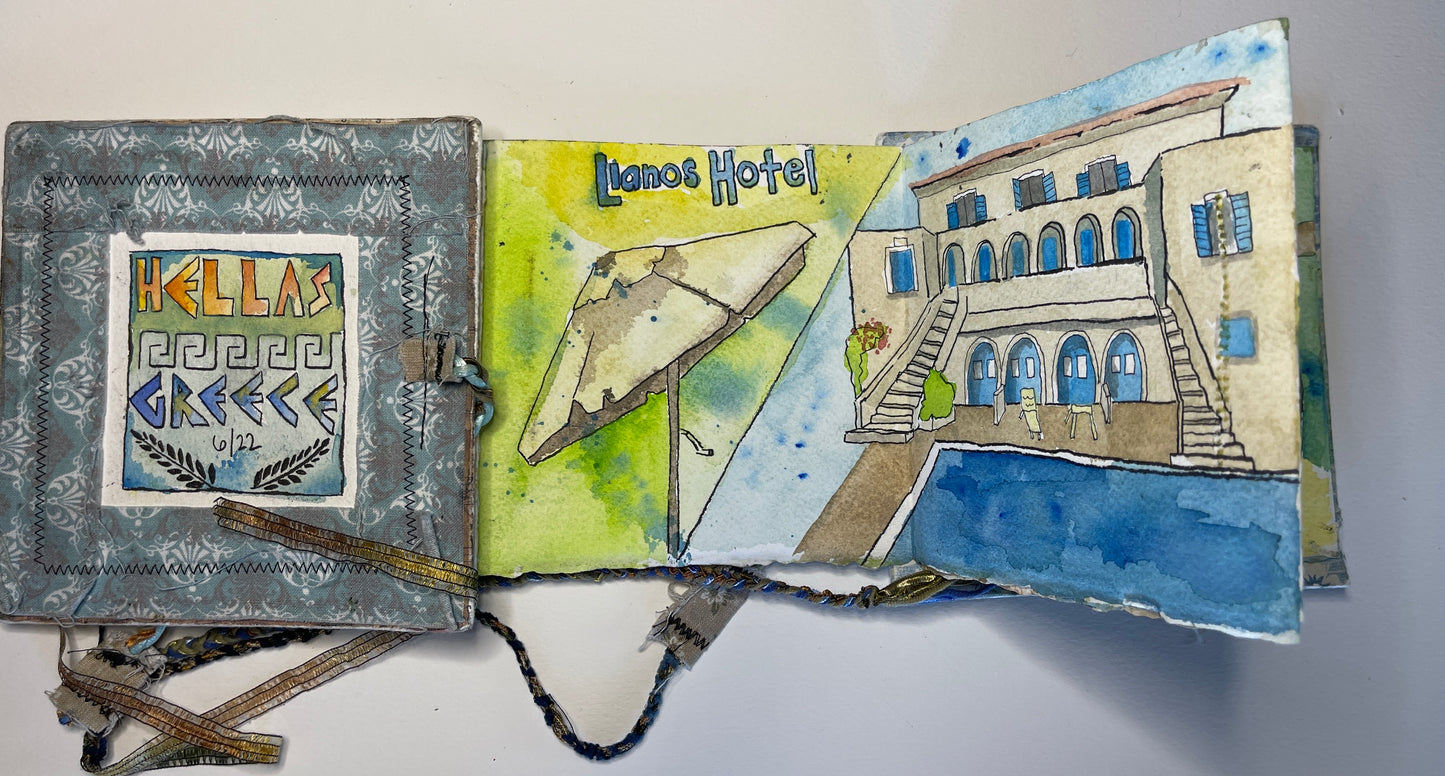 When I am on the road, I usually don't paint life. Most of the time, I take pictures as I'm out and about and then use those pictures to sketch to create a narrative of my trip. The only tools t
hat I nee
d as a small watercolor kit, a pencil, and a permanent black pigment pen. I create accordion sketchbooks of the trips I take.
I made my accordion Sketchbook before I left for Greece. I've used accordion sketchbooks many times during travel. I like this type of book because it holds the whole trip together visually and creates a unique piece of art that has a memorable quality at the end of the journey. They're very easy to make and I'll put a couple of steps at the end of this blog post. Click on the video to watch a walkthrough of the Greece SketchBook. 
When I am on the road, I usually don't paint life. Most of the time, I take pictures as I'm out and about and then use those pictures to sketch to create a narrative of my trip. The only tools that I need as a small watercolor kit, a pencil, and a permanent black pigment pen.
Steps to make a basic accordion sketchbook (no cover)
•••••••••••••••••••••••••••••••••••••••••••••••••••••••
Supplies:
30" x 22" Heavy Watercolor Paper (my favorite is Arches)

X-acto knife and mat

ruler

Bone Folder/scorer
I make my little accordion books 5 in wide by 5.5" tall. I like the 30" watercolor paper because it divided equally into five equal parts. I cut off a 5.5" strip of paper. Then I mark 5 5" sections using a pencil. Using my bone scoring tool, I score those sections so that they fold easily. Next I fold them into an accordion piece. Five sections make a perfect accordion. If you want to add a cover it's not that difficult to cover a couple of pieces of cardboard with fabric or paper and use some book binding glue to attach them to the front and back.