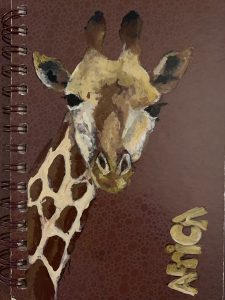 I am rather obsessed with sketchbooks. I have been on a mission for several years to find the 'perfect' sketchbook. 

I am rather obsessed with sketchbooks. I have been on a mission for several years to find the 'perfect' sketchbook. Having never found exactly what I want, on my next trip, I'm going to bring loose paper and make my own sketchbook. I'll let you know how that goes. Here is a list of the sketchbooks I have traveled with in the past. I'm not saying there are not better ones out there. These just worked for me (or didn't) at the time.
I like a size I can carry in my purse or backpack and is easy to hold while sitting or standing.
I like a strong cover for added support.

I like really thick, strong watercolor paper because I use a lot of water and it doesn't bleed through. 
Stillman & Birn Beta is one of my favorites. It has a soft cover and no spirals so I can paint across the page. The paper is really thick and water or ink does not seep through. It holds up well to travel. It only has 28 sheets which I like because it is the perfect length to document one trip.
This is a also a really good general book, but I find the pages a little thin for watercolor. I love that it has twice as many sheets as the Beta, however.
This is a strong book with a really hard cover. It is great if you want a firm drawing surface and you don't mind the spirals. It is also a little bigger but still a good size for a backpack.  
I love this sketchbook. It is called a "Visual Journal" and it is one of the best watercolor sketchbooks I have encountered. I love it because the paper is really thick and there are 22 pages, which makes it perfect for a trip. It has a hardcover that is nice-looking (the cover in the picture tears off revealing a nice brown patterned cover). I often paint a picture on the cover. 
Instead of bringing a bound book, for my Cabo trip, I created an accordion mini-sketchbook. I chronicled the trip in little snippets. 
Part of an accordion sketchbook I made out of watercolor paper for a trip to Cabo in Mexico.
Cabo was a short, one week trip so it worked out perfectly. You can buy one at
RandsHandmades
on Etsy, or they are pretty easy to create.
Words and Pictures
has a great blog on how to make an accordion sketchbook yourself. I'm all about DIY.
I'm sure there are other great sketchbooks out there. What are your favorites?